Grand Challenge Scholars Program
---
The challenge for every engineer is to change the world for the better. It is because of this core mission that some of our greatest technological accomplishments were created from the fertile minds of engineers: cars, planes, medical devices, cell phones, toys, just about everything that touches our daily lives.
The University of Utah John and Marcia Price College of Engineering Grand Challenge Scholars Program (GCSP), endorsed by the National Academy of Engineering (NAE), is an education model to prepare our engineering students to be the world's new innovators.
While participating in this program, students will build a portfolio throughout their undergraduate experience in any of 14 areas, known as the Grand Challenges established by the NAE for the 21st Century. These are all areas bound by social issues that require innovative technology to solve our most pressing global problems.
Health
Advance Health Informatics
Engineer Better Medicines
Reverse-engineer the brain
Joy of Living
Advance Personalized Learning
Engineer the Tools of Scientific Discovery
Enhance Virtual Reality
Security
Prevent Nuclear Terror
Restore and Improve Urban Infrastructure
Secure Cyberspace
Sustainability
Develop Carbon Sequestration Methods
Make Solar Energy Economical
Manage the Nitrogen Cycle
Provide Access to Clean Water
Provide Energy from Fusion
The GCSP is a prestigious national program that increases your understanding of engineering concepts and their application to the real world. It also sets you apart from other engineers in your field, and can help you excel in grad school. Additionally, you will:
Receive a certificate of achievement from the Price College of Engineering
Be recognized at the graduation ceremonies as a GCSP participant
Receive recognition from the President of the National Academy of Engineering (looks great to future employers!)
Have a unique way to earn an Honors Degree
Gain access to scholarships opportunities
Have access to GCPS conferences where you can expand your network
Learn the skills needed to change the world for the better
To complete the program, students will build a portfolio throughout their undergraduate experience encompassing five components:
Research experience: Project or independent research related to a Grand Challenge.
Interdisciplinary curriculum: Preparing engineering students to work at the overlap with public policy, business, law, ethics, human behavior, risk as well as medicine and the sciences. Examples that span these disciplines with a coherent theme are Energy and the Environment, Sustainability, Uncertainty and Optimization, etc.
Entrepreneurship: Preparing students to translate invention to innovation; to develop market ventures that scale to global solutions in the public interest.
Global Dimension: Developing the students' global perspective necessary to address challenges that are inherently global as well as to lead innovation in a global economy.
Service Learning: Developing and deepening students' social consciousness and their motivation to bring their technical expertise to bear on societal problems.
This program will be completed over the course of your undergraduate experience- while it may seem like a daunting task, the Grand Challenges Scholars Program is designed to work in conjunction with your undergrad experience. Please reach out to your Grand Challenges Director if you have questions or need guidance.
Once accepted into the program, students must:
Submit to the GCSP director a proposed GCSP Plan – this is due within one year of beginning the program.
Remain in good academic standing. 3.0 GPA minimum or if completing Honors Degree/ Certificate then must maintain a 3.5 minimum GPA.
Complete the proposed GCSP Portfolio including the five GCSP components at least two months prior to graduation.
Incoming and current Price College of Engineering students (freshmen, sophomores, juniors, and seniors) are welcome to apply to the GCSP by filling out the application form below. Engineering students are encouraged to apply as early as possible during their undergraduate studies.
If you run into problems submitting this form, please email Lexi Crabb.
Apply Below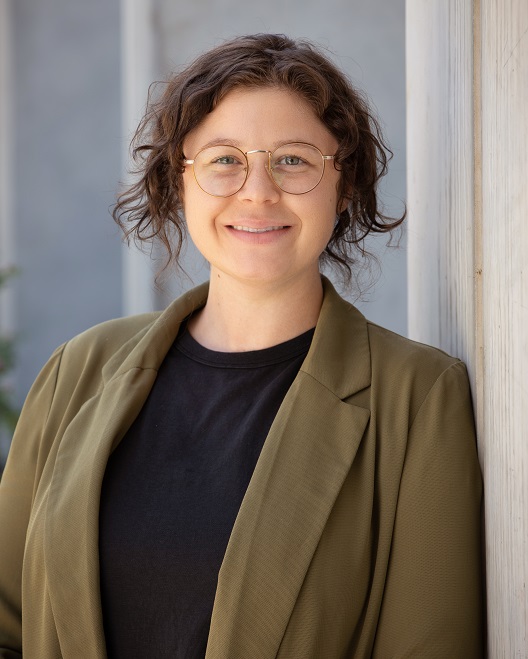 Alexi Crabb (She/Her)
Price College of Engineering
Academic Advisor
---
Make Appointment
---
---